Spruill Center for the Arts
---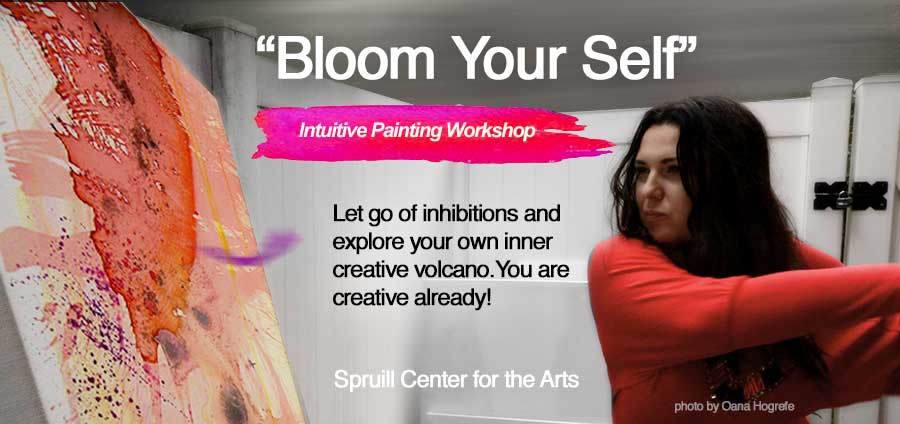 Course title: "Bloom Your Self" INTUITIVE PAINTING WORKSHOP
WHEN: Saturday, February 5, 2022, 10:00 AM to 2:30 PM  (1 session)
Other dates: 03/20/22
WHERE: Spruill Center For The Arts 5339 Chamblee Dunwoody Road, Atlanta, GA 30338
FEE: $155 (non-member)
Contact me with any question
Join me in exploring the art of Intuitive Painting. This workshop is about letting go of inhibitions, and plunging into your own inner creative volcano. Practice expressing yourself on a large surface: splashing, smudging, layering, stretching across the canvas, trusting the process, all while being guided to empower yourself. This method might just change the way you approach painting! NO EXPERIENCE NECESSARY, ALL LEVELS ARE WELCOME, from first time painters to advanced and professionals. All you need is an open mind. Trust. You are creative already! Paint supplies are included in the $20 materials fee PAYABLE TO THE INSTRUCTOR AT THE WORKSHOP by cash or check. Spray bottles and other miscellaneous tools for creating textures will also be provided. Just bring one small and one large acrylic brush (about 1″ and 2" wide), and a large size canvas (36″x48″ or larger recommended). Please plan to arrive 10 minutes early to set up your work station. We start promptly at 10am!
---
---
---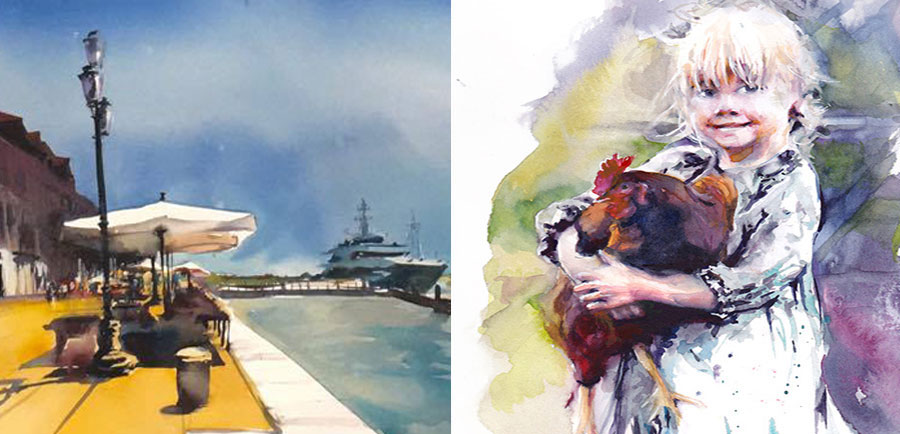 Course title: EXPLORING WATERCOLOR
WHEN: Monday,  January 14, 2022 , 10:00 AM to 12:30 AM (6 sessions)
WHERE: Spruill Gallery 4681 Ashford Dunwoody Rd, Dunwoody, GA 30338
FEE: $240
Contact me with any questions
Fascinated with the watercolor medium but not sure what subject to paint? Join this class and try on a variety of subjects from painting landscapes, cityscapes or flowers – to wildlife and portraits. Discover the excitement of painting freely, focusing on capturing the emotion of the subject, learning watercolor techniques along the way. This class is an excellent opportunity to release creative blockage. A demo will be performed at each session, and individual guidance offered as you progress with your artwork. All levels welcome. See spruillarts.org for a list of supplies you will need to bring to class.